The Laut Story
Jewelry for Connoisseurs
In 2003, the brand ALEXANDER LAUT came into existence and the first boutique opened in Hawaii. The brand quickly became popular with connoisseurs worldwide. ALEXANDER LAUT has customers from the USA, Brazil, Japan, China, South Africa, the United Arab Emirates and Russia.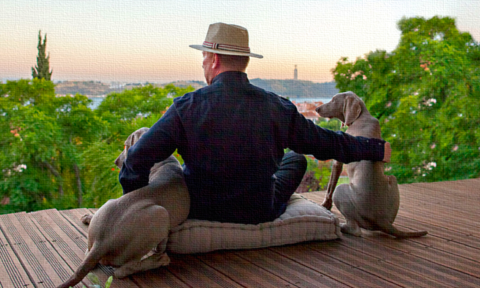 Biography
Alexander Laut was born in Moscow in 1967 but left Russia in the early 1990s to emigrate to Hawaii in the USA. Alexander received a medical education (MD) and tried many different professions before finding his real passion in making Jewelry. He worked as a journalist, photographer and gallery owner but has always been interested in jewelry design and gemology. Jewelry is now his full time vocation and passion.
The turning point in Alexander's life was his meeting with Ronald Winston, the son and heir of the great Harry Winston. This extraordinary man, chemist, gemologist and Japanese Art Connoisseur tipped the scale in Alexander's decision making process and led him to become a jewelry designer. He was also the inspiration behind Alexander's first jewelry collection.

  
Alexander's unique style and creative solutions involve an emphasis on rare natural stones which are chosen by the designer himself. Alexander focuses on large, rare and unusual collectible stones like colored Diamonds, Rubies, Sapphires, Spinel, Alexandrite, and rare Turmalines. Another notable signature involves a collection of natural sea pearls combined with precious stones. Not long ago he completed the necklace called "Cleopatra" that has a 26 mm perfectly round Australian pearl, which nowadays is impossible to find. He likes to work with large rare pearls from the South Sea as he likes the mystery of "organic" gems.
As a consequence of his long-term collaboration with the Jewelry House of Harry Winston, Alexander's works exemplify high quality with an intense attention to detail and still have a unique style and that is why most of his designs tend to be "classical" and conservative. At the same time the creations of Fulco di Verdure who set standards and visions for many contemporary jewelers influenced Alexander's works to great extent. He tries to avoid mass-trends, but concentrates on individual needs.
The accent in Alexander's works is always on large and visible Cocktail Rings. He says: "In my opinion, wearing jewelry, as sets can be boring and costly. You can achieve the same effect with one substantial piece of jewelry. Among his favorite pieces is the ring "Enternal Kiss" that highlights the central important stone with the diamond from inside. The Ruby Strawberry is another one. His priority is to work with the impact of sublime artistry and rarity. Each item of "ALEXANDER LAUT JEWELRY" is unique, has its own ID-number and author's stamp. His jewelry is all manufactured by hand, one piece at a time by Japanese jewelers known for their attention to quality and detail.
Alexander travels a lot. Among his favorite destinations are Moscow, Zurich, Dubai, Hong Kong, Los Angeles, and Tokyo. In Zurich his jewelry is represented by Landolf & Huber Jewelry, whose owners are his friends and partners. Hong Kong, Los Angeles and New York are also often visited by Alexander because some of his important jewelry pieces are selected by representatives of the Sotheby`s auction house and are successfully sold there. He has homes in the center of Bangkok, Moscow, Honolulu and Lisbon.
Alexander Laut's team consists of family members and friends who share his vision, passionately believe in the brand, support each other and share the success and achievements.
For leisure, Alexander likes to swim whenever possible, as water always brings him relaxation and inspiration. His last name translates in Indonesian and Malay as "SEA" and his horoscope sign is "PISCES", so he needs to be near water as it is important to him. When visiting the Pearl farms of this region, he has the nickname Mr. Sea.